True Spirit of Napoli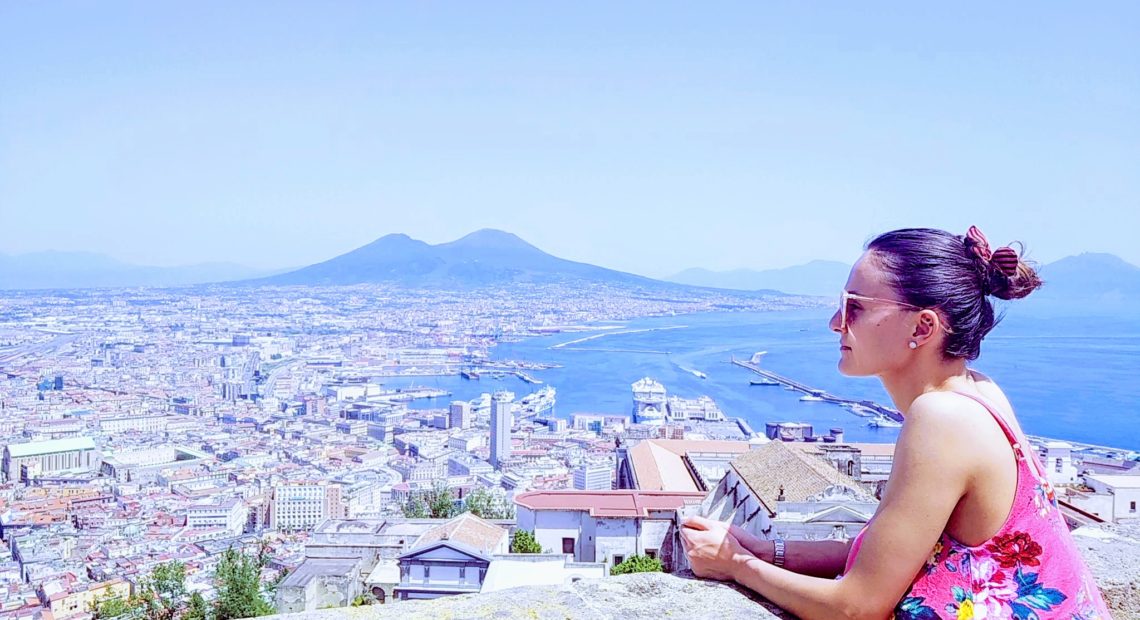 People say the first impression is most likely wrong. Did that ever happen to you? Have you ever mistakenly considered a thing to be something it is not? That's exactly what Napoli did to me. Ever since I stepped foot in that city, I made up my mind about it – a noisy, dirty, smelly, rowdy place with people blowing cigarette fumes right into your face while you're waiting for a train at the station. The only worthy thing is pizza, literally any pizza place you order it from. That's it. That was my picture of this place. Despite being there so many times, I was not able to recognize Napoli's true rough nature. Until once when I changed my usual itinerary and took left instead of right.
So, let me introduce you to this city of contrasts – Napoli (let me call the city by its real name, alright?)
To get the spirit of any place I always start from the top – panoramic views will give you a general idea of how big or small the city itself is, will point out the places of interest and provide you with a great background for your vacation pictures. In Napoli that will be the Castel Sant'Elmo.
Look for a Stazione Funicolare Centrale on the Piazzetta Duca D'Aosta.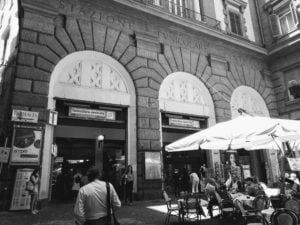 One way ticket is only 1.1 Euro. There is a small ticket office, but nobody is ever there (FYI, in Italy a lot of things work the other way, but we'll get to this later. 
So, you buy a ticket ️ from a man selling newspapers and other goods at the entrance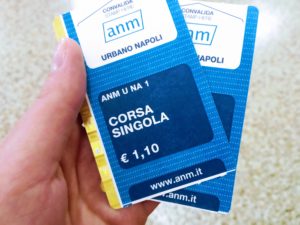 . The train itself departs every 10 min, and from bottom to top it takes about 10 min ride. To get to the very top you'll have to exit on the last 4th station – Piazza Fuga. After that turn right, go up the street stairs, continue all the way up to the castle. If you feel you got lost, use this one "come faccio al castello?" ("how do I get to the castle?"), it should be handy, and then look for the directions from the locals.
Weird thing, if you know a phrase or two in the local language, people you ask generally take it as if you speak it all️. So make sure you pronounce it slowly and look unsure, otherwise, you'll get the whole flow on unknown sentences at a full speed;)
The entrance to the castle itself is 5 Euros, but it's half price for 18-24 aged customers if you show your valid proof. Have your passport with you at all times, or what is better, carry a copy of it. You'll need it for one more thing – to get a refund on the tax you're paying in Europe. 
Any official shop you go to provides you with a special sign up form (where the passport's number, phone number and email address are stated), which shown at the airport will get you your money back. Great news, isn't it? 
Now, let's get back to the castle. Once you get there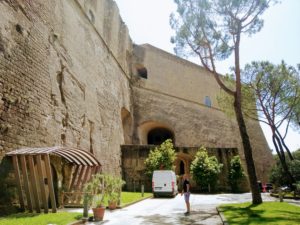 , take the elevator to the upper floor and enjoy the stunning views! You go all around and see Napoli scattered down below, gorgeous in its sleeping glory Vesuvius volcano, the whole Amalfi coast with the Capri island on the horizon…  In places like that time cannot be really measured, right?
 After all the scenic pictures are taken, right on your way out by the elevator, make sure you do NOT use the water&snack machine, as most likely it will consume your money, give you a weird message in Italian, that even your translator app will struggle with, and leave you thirsty;( That happened to me, so don't try your luck. Just stop by the Carrefour Supermarket on your way down. They are offering a wide variety of delicious Italian goods at reasonable prices. Pack up your lunch box with some olives, cheese, prosciutto and don't forget a bottle of Italian wine, of course! Save that for a lunch later on Piazza del Plebiscito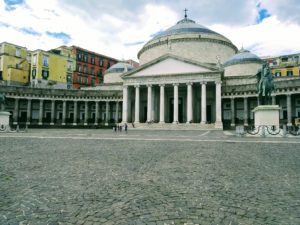 , that is all the way down at the seaside, or at the park by Viable Anton Dohrn with a perfect bay view for your pictures and fresh marine wind for your retreat.
So, if you just turn left from the castle, there are generally two ways down – by funicular and on foot. Since it's not climbing but descending, I'll suggest you walk. Let yourself get lost in narrow shabby Napoli's streets, in between the mid-age century ruins️ and military fortifications inhabited by modern Napoli's citizens. You'll be able to notice how weird that cohabitation is – some castle's walls on the outside are partially covered with bathroom tiles to prevent the clean linen that's drying out from getting dirty. I guess Napolitans way of life could be described as convenient. They're trying to adjust whatever they have to their personal needs with as little effort as possible.
Slowly descending the hill via the curly little streets, you'll eventually reach the Via Medina.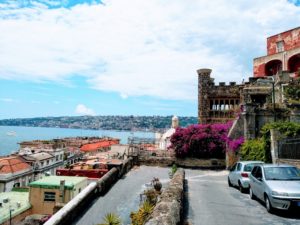 Noise will be your orientation – the louder it gets, the closer you are to the center;).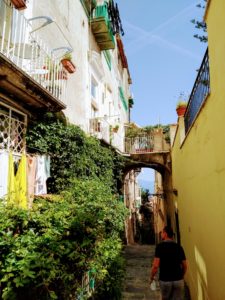 It's mainly a walking street with brand shops and exquisite ice-cream parlors, or gelaterias, that slowly disappears into Via Monteoliveto.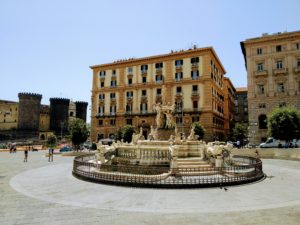 I say "mainly walking," because traffic in Napoli is a terrific mess, so omnipresent motorbikers can be a threat even there.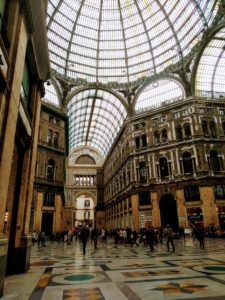 Galleria Umberto is a place to stop by, at least to see the gentle summer sunshine beaming through the beautiful glass ceiling. It always amazed me, as it looks like a street, feels like a big train station when it's neither. It's just a state-of-the-art shopping mall.
When you eventually get hungry, don't buy a slice of pizza in the nearest window-shop and eat it while you walk. Pizza in Napoli is a thing to be adored and savored. Turn around the corner, find a little family place with a big oven and an energetic 50-years old Italian man, who's gonna cook it right in front of you. 
If by any chance your favorite pizza is Quattro Formaggi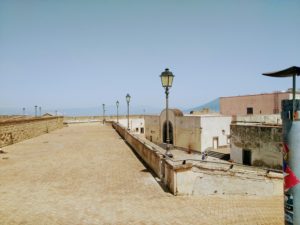 (4 Cheese – well, it's my #1 permanent choice), stop by Antica Trattoria e Pizzeria da Peppino. I guarantee you the best cheese pizza in town! Their secret is in adding chips of smoked cheese on top, that complements both taste and flavor in it. It will cost you about 7 Euro, and a glass of Peroni on the tab will be around 5. Yeah, food is way cheaper than booze;) So, if it's a lunch for two with a pizza and couple of beers, with the tax and service charge that will go up to 20 Euros. For the wheat beer lovers – make sure you try Peroni Bianca, that's mostly bottled though.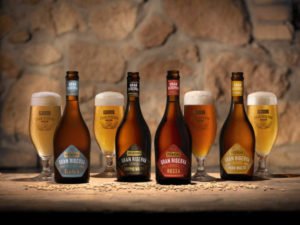 You'll be quite surprised to find out that Italians can brew on the level.
Well, my day in port is almost over, gotta go back to the ship now. Napoli has so many things to offer, that a day is never enough.
Sometime later probably we'll go and concur mount Vesuvius. I'll tell you how to get all the way up and, what's most important, how to get back down safe & sound)
Go ahead and wander around this colossal beauty of the city, get mesmerized by its antic ruins and dilapidated houses covered in blooming wicker, and also be aware of your bags and pockets). Remember that there's no wrong way to go, just don't go the same way twice. 
Keep up your spirit of adventure and see you in the next port!
Love, Oli