Welcome to Palma 🌴 de Mallorca!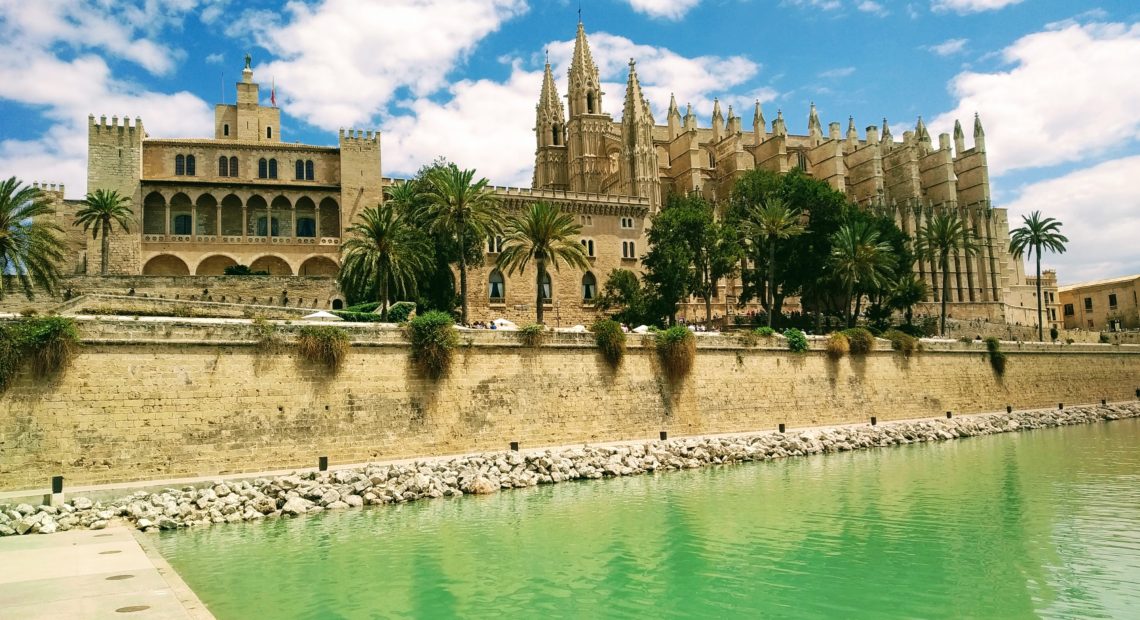 Oh, good morning! Today I woke up quite early again to get off the ship and visit this Spanish resort with fancy boutique shops along the central street and Gaudi-style architectural centerpieces. Welcome to Palma de Mallorca!
Why would you come to a place like this? Some choose Palma for its gorgeous sandy beaches with breathtaking diving opportunities and lazy leisure time… Some do for its shopping, although brand shops like this could be found basically everywhere, and even sometimes at better prices – let's be honest, Mallorca is by far not the cheapest place to shop ️(however, you can still find some sales and discounts, just dig deeper.)
Some actually do just to show off – fancy-fancy, pictures on Facebook/Instagram with #PalmadeMallorca #checkmeout stuff))
Let's dive in and see the beauty of Palma!
I start my walk around right where they drop us off the bus – at the old city center next to the  Cathedral de Mallorca.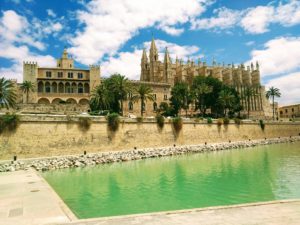 It's a splendid gothic-style church up on the hill by the sea, you couldn't miss it for the world! Stand right next to them to get a beautiful background for your vacation' pictures. Wait for the bubble man to blow a soapy rope nearby, and catch the moment to jump in the colorful bubble cloud! You want more? Tip him a bit and he will do his best!
On your way to the Cathedral, you'll be passing by a souvenir market with all the made-in-China stuff: magnets, name bracelets and other. Look for something authentic, if you are ready to spend some. Pay attention to some hand-made jewelry, painted ceramics (there is an artist who paints on top of the ceramic plates with house images on them, bringing them to life with all possible colors. Sorry, I couldn't take a picture for you, it's forbidden).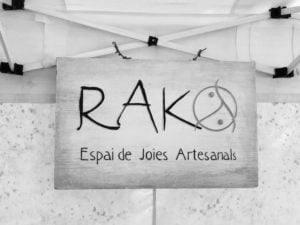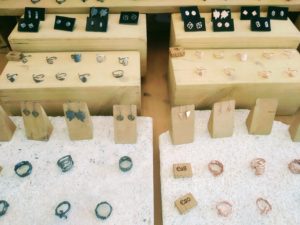 I especially enjoyed aromatic vax. On one of the stands, you'll see what will seem like a vase made out of vax. At first, I thought they were️, but they don't have any wick inside them. So there are different sizes and colors which stand for different aromas – lavender, lemongrass, bubblegum, you name it. Pick one for 8 Euros and two for 14. The craftsman who makes those also gives up free samples of chopped vax, I put one in between me and it does smell good;) Anyway, he will probably talk you into buying at least one, like he did to me by guessing my nationality and talking to me in my native language with a spicy Spanish accent.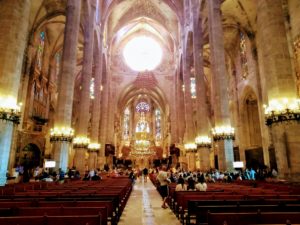 But by all means, it's worth it! So much space and so much sanity in there! Indescribable. I felt a bit overwhelmed and intimidated. You'll just have to experience that by yourself, that's it, cause no camera in the world would be able to depict this majestic beauty of colorful stained glass windows.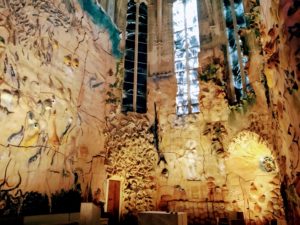 Don't go past the Chapel of the Blessed Sacrament, as it looks completely different from the rest of the church design, and it challenges your imagination.
Walk around the premises, enjoy ivy-covered stonewalls  and little cozy courtyards with relaxing sounds of waterfalls and fountains.
Time to move on. Passeo del Born Street is easy to find. It's a walking passage and full of boutiques and small shops. If you cannot resist making a purchase (I couldn't 🤫), stop by a little shoe shop on your right, next to the cigar shop (FYI, they sell not only cigars but humidors and accessories over there, ladies – drop your men in there while you go next door) and pick up a pair of leather sandals. These are very popular Spanish models that come in a variety of colors and decors. You'll spend 20-30 Euro, depending on the pair. Well, if you don't buy, just try them on! Beauty and comfort do not always come together like they do in these ones! By the way, you'll be able to see cheaper ones that look the same, I almost regretted buying mine for 30, when I saw price of 18. But I looked closer and realized they were cheap fake stuff, so you can forget about comfort in those.
What can I say, well spent!
A little further down the street will end up in a little square with a local cafe on it – Bar Bosch. Right before it, you'll find a perfume store  – Perfumeria/Cosmetica Tin Tin – with very good prices and deals.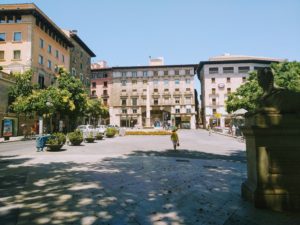 Remember to have your passport or a copy of it for tax-free shopping. Lovely ladies in there really helped me out, even though they hardly speak English and I'm not that good at my Spanish either.
After all the shopping you've done, it's high time to relax and celebrate! I found the best treat in Palma in Manto Negro Tapas Bar, and that was sheer luck. Still sleepy, I was looking for a nice foamy cappuccino and instead ended up ordering an Espresso Martini (capital letters are really meant here!) Gorgeous creamy taste, harsh bitterness of espresso broke done by shaking it with some secret ingredients they don't wanna give up, but somehow, with me not liking black coffee at all, I fell in love with it. You might say, it's too early for a drink, but it's 5:00 p.m. somewhere;) That boosted me up for the rest of the long busy day, and it cost 7.5 Euros. In Manto Negro they also have a wine&tapas menu.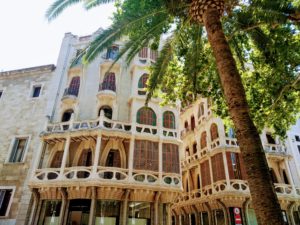 When you exit the cafe, you'll see a square – Plaza del Mercat, with a huge green tree that stretches all above it. Pay attention – on the other side of it you'll see a 5-stories building in unusual architectural style. Looks like Gaudi was traveling to Palma and left his masterpiece behind as a reminder.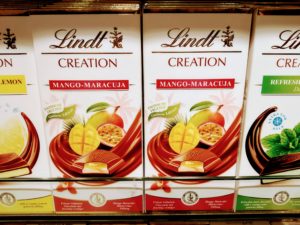 Walk a few blocks down and turn right to get lost into another shopping street (with more reasonable prices this time.) Cozy local cafes, family-owned stores, street art in all its possible variety – that is La Rambla. I was lucky to stop by the Lindt authentic store, where a lady greeted me with an awfully delicious mango chocolate candy. I have no idea how come she figured out, that mango is my favorite fruit! Never refuse any free stuff, even if you don't end up buying anything. Although, in that store, it's practically impossible. I came in for a reason. You see, my cousin loves this Lindt Passionfruit chocolate bars, she encountered them while traveling through Europe since then she wasn't able to find them anywhere. But this store has an enormous selection of treats, and of course, it was there! I bought like 5 or 6 at once and took this picture for her to let her know what is on the way;) Naturally, I got one for myself as well, a 98% dark chocolate to savor.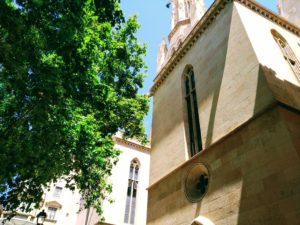 Somewhere along the street you might hear church bells, that would most probably be Sant Francesc Church. Too many churches, you think? I'm not a religious person, however, I would always stop by a church or a cathedral for a couple of minutes. First, you get a break from exhausting summer heat diving under its medieval stone columns. Second, you can relax for a bit and sit down, exploring is most often a long-distance walking. And sometimes even enjoy an impromptu organ concert, as I did.
Later on, when you get hungry, Burger King will be definitely waiting for you somewhere on the way, but you are here not to visit Burger King, are you?
One friend of mine, we used to work on the ships together, is known for visiting every Burger King place in every city he goes to. Well, I'm being classy and keep buying magnets – less health threat.
And so, you can drop by this little family cafe – For Des Teatre on Jaume Alemany Street.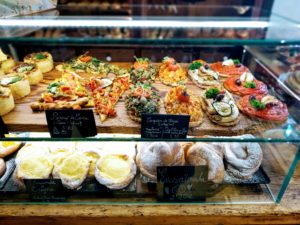 I just couldn't pass by the show-window – you stare at that mouthwatering stuff that looks like pizza but it's not (the dough is different, it's crunchy, tastes more like pastry,) and you can't help yourself!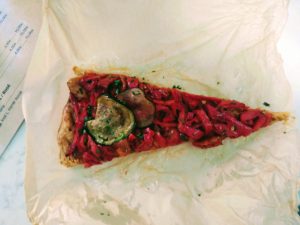 I ordered a slice of red pepper stew, and it was awesome! Unfortunately though, they don't really have tables and chairs outside (and you would want to sit with your slice, as it's delicate and easily falling apart,) but you can sit right next door  and get some ice-cold beer to go with your snack. I paid about 8 Euros for both, including tip.
So that was one shopping- exploring-martini tasting-relaxing day! Hope to have more coming. I liked wandering among these mazy Palma streets with finding myself in unexpected but beautiful places. The city is very green and shady, a pure retreat. Next time I'll probably try to get to Palma beach to be able to experience leisure on soft Spanish sand and to tell you all about it.
Time to get back to the ship, my shift starts in an hour. Long day coming, excited to take it on!
Love, Oli