Natalie Martinez: Breaking News and Loving It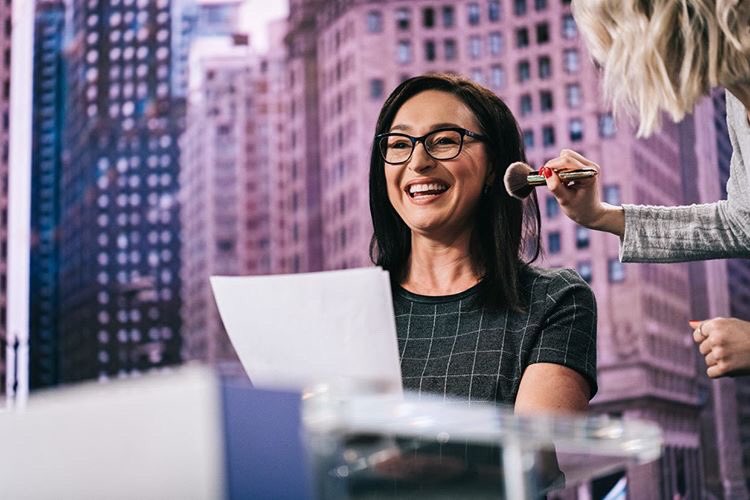 When most people are settling in for the night getting ready for bed, Natalie Martinez is likely smack in the middle of the night's top breaking news. An NBC 5 News reporter, who has dedicated her life to being a professional journalist, has a list of accomplishments each of which deserves its own discussion.  She is now a two-time Emmy Award-winning journalist, been named one of Chicago's Most Influential Women according to "I'm Every Woman Expo" of March 2011, a member of the National Association of Hispanic Journalists (NAHJ) and the Chicago Chapter President in 2016. 
She enjoys a successful career, popularity, a happy family, numerous vacations on exotic islands and gets to display her bright smile on your TV screen five days a week – this is how we see Natalie Martinez. At first glance, it may seem her successes came easy, but what's behind that success? The Lufian star has a very passionate story of sweat, tears, dedication and constant sacrifice to share with our readers.  But as she emphasizes, this journey is a big part of who she is and why she considers her profession one of the best in the world, and the only one for her.
Many assume that successful people are born with a silver spoon in their mouth or that fate has continually smiled upon them. Not so with Natalie. The choice to become a journalist was not always an obvious one to her. As a sophomore in college, she had initially decided to follow her father into his dentistry practice. Unexpected circumstances, being in the right place with the right people, changed the course of Natalie's life. She recounted, "…my boyfriend at the time was the youngest of 8. He took me to all his family functions. I found myself essentially interviewing his eldest brother, Ed, about his job at every function." Her instinctual curiosity and those experiences interviewing Ed helped Natalie to realize there was something else out there that she not only had a skill for, but which awakened a passion.  It was a passion to meet new people, learn new things, get to the bottom of issues, and… find the truth.
What's Behind The Camera?
Do you think that being a reporter and a television news anchor is the ultimate dream job? Natalie confessed to Lufian that although the viewers only see the end production of her work on a 30-minute newscast, the work that goes behind the scenes is very challenging and tests one's nerves and health.  "You always have the challenge of making dead finding a bathroom, a hot meal, any meal and an obliging interviewee. Finding a safe place to work and conduct interviews can be a challenge, especially when covering breaking news." It takes more than a college degree to be a real journalist. Natalie told us that a journalist often experiences ugly scenarios and sometimes exposes themselves to life-threatening situations. This often comes with considerable mental strain and one has to be mentally resilient.
"You don't get training to be a first responder or psychologist, but oftentimes you have to behave like one and really just be there for the victims who are going through so much." Martinez explained that sometimes you have to put aside your role as a reporter, remember that you are a human being and be present for the person that needs you to just listen.
Uncovering and reporting the news demands every minute of your attention. "News waits for no one, and certainly for no holiday," she emphasized. Due to her dedication to her profession, Martinez has sacrificed many comforts of life and also many of those cherished special moments millions of us take for granted during the holidays. She looked back at her 25 years in the industry and remembered working through the nights, the 3 a.m. mornings, most weekends and missing out on many holidays with her friends and family. The bright side?  As with many jobs, as one gains seniority, those sacrifices can decrease significantly.
Martinez and her Brazilian husband Flavio Gama lived in separate countries for 12 years while maintaining their strong relationship. In 2013, Flavio moved to Chicago and soon thereafter, at the age of 46, Natalie Martinez Gama gave birth to their baby girl.  
After years of striving to become the best journalist she could be, her new challenge was to somehow maintain the work ethic that got her where she was, all while raising her child with her husband.   But just as in the early part of her career, she found the way.  Natalie emphasizes that you must have endless love for the job to bear the challenges it presents. Raising a family is clearly one of those challenges given her career obligations, but the support of her family is invaluable and she uses it as one of the best ways to recharge. She and Flavio are real examples that love can't be contained by borders and that if you want to make something work, you can, even though it may not be the traditional path.
As one might expect, pregnancy didn't stop Natalie from pursuing her passion and she worked until the latter stages of her pregnancy. She recounted, "Toward the end of my pregnancy, I was covering stories where I probably should not have been. But I would not encourage anyone to follow suit. In fact, I remember one live shot where I was so pregnant that I had to use the ladies' room every hour. I was not drinking enough water, because I knew that would force me to be near a bathroom, which I could not realistically do. 
Was it life or death? No. But is that something that every 8-month pregnant woman is willing to do? Probably not. It's something for you to consider if you would like to truly be a roving reporter."
Journalism is no doubt an interesting and exciting career path, but to be successful you must be motivated and dedicated. It's not easy to understand the rollercoaster of emotions that goes along with being a reporter.  One day you may be reporting on the death of a child, the next on the 100th birthday of someone's grandfather.  You need to be able to tell both stories with the appropriate and sincere emotion.  Natalie explains, "When faced with the task of telling someone's story, I'm always motivated. Getting to work, some days, especially after covering particularly horrible stories, is difficult. But once I'm there and someone needs me, I'm fully there. It's likely the only time they'll ever have the nerve to go on camera. If I don't tell their truth, they likely won't get another shot. I take the responsibility very seriously and am always present for someone who entrusts me with their time and emotions."
Natalie also shared the importance of maintaining her professionalism in the face of personal adversity. When her beloved cat Nigel was howling from cancer that would soon consume him, Natalie managed to go on air and conduct an interview. Mindset is crucial to professionalism and to Natalie. She told herself, "Focus, Natalie. Flavio is comforting Nigel. Nothing you can do at this moment." 
Part of a journalist's job is to live through the very difficult moments experienced by the heroes and honestly and accurately share their stories. According to Natalie, when she meets people experiencing gut-wrenching tragedy, it reminds her to always keep things in perspective. "As bad as I may perceive my day is going, it's usually not as bad as what my interviewee is going through. And THEY are the ones who need support and full attention, even if it's only for 10 minutes."
Tips From Natalie Martinez
Use the amazing services and mentors at organizations like the National Association of Hispanic Journalists ("NAHJ"), the National Association of Black Journalists ("NABJ"), the National Lesbian and Gay Journalists Association ("NLGJA") and the Asian American Journalists Association ("AAJA"). Natalie adds that such organizations can be of great assistance for your career. The National Association of Hispanic Journalists can also be an incredibly valuable tool for college students. They give away thousands of dollars in scholarships yearly, money that Natalie's local chapter earns solely for the purpose of redirecting to aspiring journalists. If journalism is your path, please use the services of organizations like NAHJ. You will not regret it; 

Trust your gut, your instinct could be your best asset as a reporter; 

Be honest with yourself and others; 

Know your surroundings, and what It's going to take to get the story safely; 

Learn from your mistakes; 

Accept help and constructive criticism; 

Try; 

See a hole? Fill it; 

Prepare to live on the skinny for a few years; 

Volunteer. Rewards far outweigh the effort; 

Lend your voice, especially if you're in a public position, to those who don't have one; 

Stay focused; 

Stay hungry.
Do it because you want to be on tv. It's just a very small fraction of your workday; 

Be above starting in a small market where you can make mistakes and learn; 

Give up; 

Expect to make millions; 

Depend too much on others. Try to be self-sufficient; 

Whine. Your boss has heard it all; 

Compare your work situation with others. Natalie says, "This was the best advice that I got from a General manager many years ago. He is still incredibly successful and has nurtured the careers of many. You have no idea what somebody else's contract or personal situation might be, and you should never compare what you have at work, to them. Ever."
Do you wonder if you are born to be a journalist? Could you see yourself in the middle of a crime scene, a victory parade, or how about a social uprising not knowing what could happen next? Would you enjoy your lifestyle, or do you need a desk and standard set of monthly "to-do's"? Our Lufian star says: 
"At the end of the day, it can be the most fulfilling and best job in the world. I'm so honored to have a career that I also happen to love. Anyone who is handed a microphone should, in my opinion, use that power to do good."
By Yuliya Kralevska, Sofiya Chlyoupek and Kristina Lufian